NEWS OF UPCOMING EVENTS
____________________
DANA Neighborhood Meeting
The Next General Meeting Is:
September 10, 2019 @ 6:00pm
At Staves Church, 2747 E. Madison

National Night Out Was A Great Time For All!!!
Good Food From HyVee!
Many Police Officer Were There To Introduce Themselves and Mingle!
So Many Thanks To HyVee For Donating this Patio Set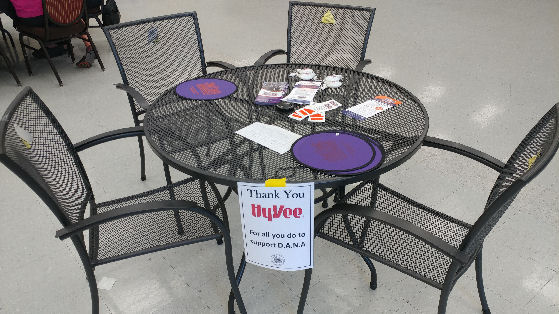 To Be Given Away In A Drawing Of Those Who Attended
And The Winner Is -----
Beverly Bice!!!!
The 2019 Meeting Calendar Is HERE

The December 2018 Newsletter is HERE
The 2019 SCRUB Calendar is HERE
---
FUTURE BUDGET CUTS LEAD TO SHELVING PLANS FOR A NEW MONTESSORI SCHOOL
DMPS announced in November 2017 its intention to build a new school at 3620 E. Douglas Avenue. The PK-6 school would have been the district's second public Montessori school, and served some students currently attending Brubaker and Garton elementary schools.
Larger-than-hoped-for budget cuts will mean Des Moines Public Schools shelving plans for a new Montessori school on the city's northeast side for the foreseeable future.
"The past several years of under-funding public education in Iowa is taking a toll, and our plans for a new Montessori school is a price that unfortunately must be paid," said Dr. Thomas Ahart, superintendent of Des Moines Public Schools. "While the construction cost of the school building would have been met thanks to the statewide sales tax, the general fund expense of staffing and operating an additional school is simply not feasible at this time. As we prepare to reduce spending by millions of dollars, including not filling many teacher vacancies, this new school will simply not fit in our budget."
Superintendent Ahart indicates that DMPS will have to reduce spending by the school district's general fund by as much as $72 million over the next three years.
"Over the 110-year history of Des Moines Public Schools, the school district regularly adapted to changes in our community," added Dr. Ahart. "Today, the needs of the families and neighborhoods in northeast Des Moines are a priority. However; until Iowa returns to supporting education in the way it has done historically, projects such as staffing and operating an additional new school must wait."
DMPS will continue ownership of the property, which was purchased in December 2017, for possible use in the future. Renita Lord, who was announced as principal of the proposed school back in July, will continue as principal of Garton Elementary School.
---
Free trees for your property
The City of Des Moines is making it easier than ever for you to increase our urban tree canopy by planting trees on your property. As part of our annual Tiny Trees program, up to 5 FREE individual trees will be made available to city residents this spring, available for order at http://tinytrees.dmgov.org/.
---
FUTURE STREET CONSTRUCTION PROJECTS IN AND NEAR DOUGLAS ACRES
Wedgewood Road concrete pavement restoration from E. 29th Street to E. 26th Street
For a complete list of all city street construction projects scheduled for 2018-2019, go to
http://www.dmgov.org/Departments/Engineering/PDF/2018 Street Programs.pdf
---
The 2018-2019 Street Improvement and Maintenance Program which includes work scheduled by the Engineering and Public Works Departments for the 2018-2019 construction season can be seen HERE.

This document is also available on the City's web site: http://www.dmgov.org/Pages/default.aspx
Departments and Authorities Engineering
Street Improvement Projects
Lea Ann Vaughan (515) 283-4931
---
I would like to inform all of you that the following Walgreens now have a box for you to drop off your unwanted medication or you can still come to police station do it as well.
901 Ankeny Blvd, in Ankeny, 24 hours
2545 E. Euclid Ave, in Des Moines, 24 hours
104 E. Euclid Ave, in Des Moines from 8am-10pm
4415 Douglas Ave, in Des Moines from 8am-10pm
3140 SE 14th St, in Des Moines, 24 hours
12753 University Ave, in Clive, 24 hours
Sgt. Doua Lor #4898
Asian Outreach Resource Officer
Neighborhood Base Services Delivery
Des Moines Police Department
25 E. 1st Street Des Moines, Iowa 50309
Cell Phone (515) 971-0792
Email: dblor@dmgov.org


NEIGHBORHOOD BASED SERVICE DELIVERY UNIT
---
PLUMBING AND DRAINAGE IMPROVEMENT
SUBSIDY PROGRAM FOR PROPERTY OWNERS
The Des Moines Public Works Department has released details for the operation of the Private Property Protection Program. This program will provide a subsidy payment for a property owner who makes plumbing upgrades to reduce the amount of drainage into the sanitary sewer. Full details of this program are now available online at
https://www.dmgov.org/Departments/PublicWorks/Pages/PrivatePropProtectProg.aspx
Alternatively for more information, please call the Des Moines Public Works Department
at (515) 283-4950.
To see the City of Des Moines Activities CLICK HERE
---